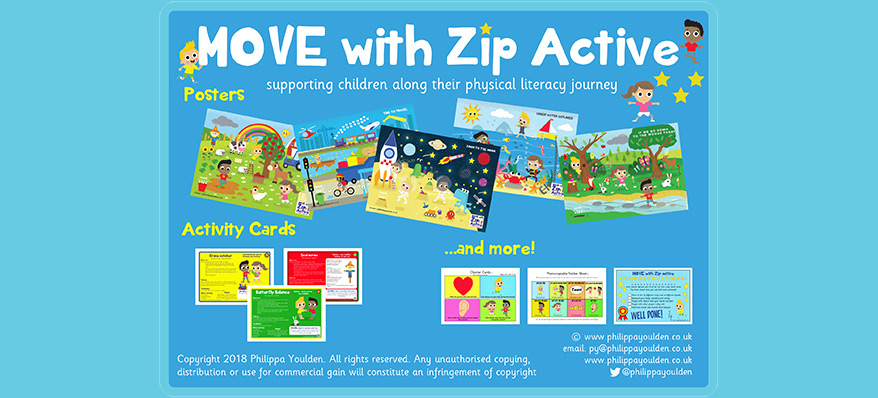 MOVE With
Zip Active
Resource
Supporting children in the early years to develop fundamental movement skills, enjoy physical activity, and promote a healthy lifestyle, while supporting their communication and language development.
MOVE with Zip Active is designed for children aged 2-5 years in reception classes, for PE and daily activity, nurseries, play groups, childminder settings, and in the home. It fully supports many areas of the curriculum and can be delivered by all those working with young children. (It can also support fundamental movement skill development in KS1 PE.)
What is included?
Inside the MOVE resource you will find:
5 large themed colourful posters to help to generate conversations with children, supporting knowledge and understanding of shapes, colours, numbers, physical actions and the world around us. They are designed to help with:
Phonological (sound) awareness, including identifying and using parts of language, words, syllables, and rhymes.
Use of vocabulary.
Expressive language, using language in an accurate and coherent manner.
Comprehension or receptive language, understanding of complex language forms.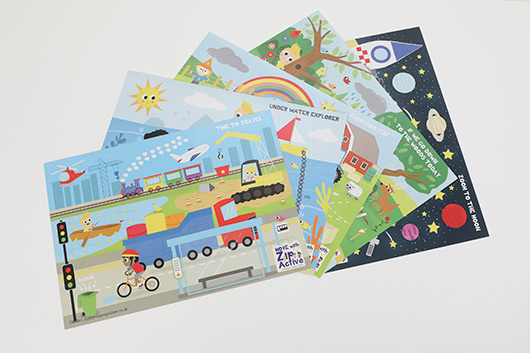 36 theme related activity cards with loads of fun physical activity ideas to support the fundamental movement skills of agility, balance and coordination, fine and gross motor skills, with teaching points, vocabulary and sound prompts all linked to the poster theme. Also includes 6 child friendly yoga pose cards to support body control, relaxation, mindfulness and wellbeing.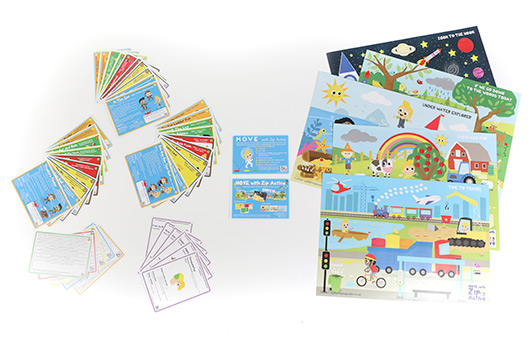 A set of Chatter Cards to further support communication, language and understanding, along with a reward sticker template and certificate of participation.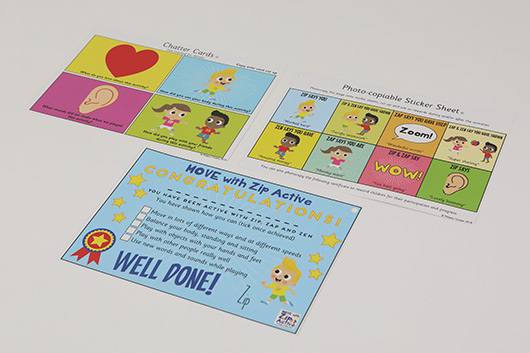 MOVE with Zip Active for nurseries, childminders, playgroups, families
If you are looking for a purposeful, exciting resource which will help you to support children's movement, along with their communication and language skills, and many other areas of learning, contact me to order MOVE with Zip Active or discuss training for groups of nurseries/childminders. (Discounts available for group purchases).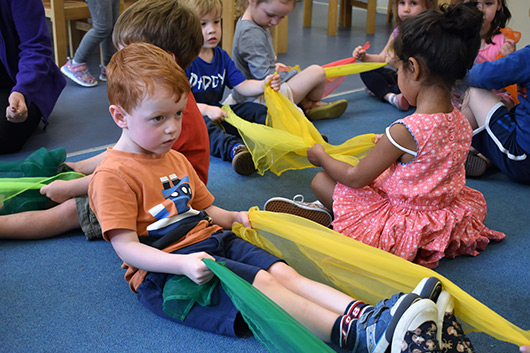 School Sports Partnerships, nursery & primary schools
Reception class forms the foundation for movement development in schools. MOVE with Zip Active provides a variety of opportunities to increase physical activity through the day with a focus on fundamental movement skills, communication and language. With 36 activity cards providing 100s of themed movement activities, action rhymes and games there is something for everyone.
Each pack includes warm ups, use of the cards for skill development and main activities for reception PE.
MOVE with Zip Active can support skills development at KS1 too as it meets the KS1 PE national curriculum.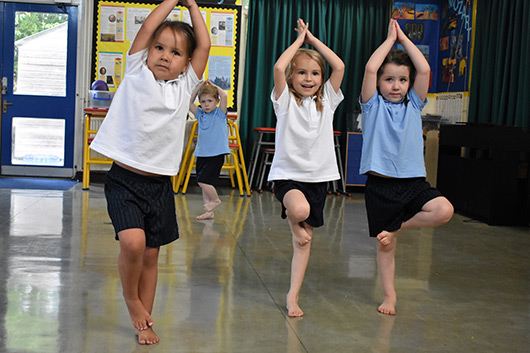 If you are interested in a half day training session for schools/settings in your area or you would like a conference workshop delivered please drop me a line.
Please email Philippa on py@philippayoulden.co.uk